---
About
Lodging for trainees, businessmen/women, tourists, students, ... situated in family house - Quiet and green environment - Private parking - Beautiful garden - Free Wireless Internet - Separated bathroom with shower and toilet for the guests - Shops & restaurants within walking distance.

Bus 76 / Tram 39 (Stib/Mivb) + Metroline 1: direction Stockel (stop at Kraainem station). De Lijn 830 (Airport Zaventem) & 410 (Tervuren/Leuven).
Flat
Room with two single beds
Desk
Separated equipped kitchenette (fridge, microwave and grill, coffeemachine, toaster, dinnerware ...) and meal corner
---
GuestbookLatest messages
Thank you very much for all your help and assistance. I really enjoyed it here in Wezembeek-Oppem and Tervuren. Also your beautiful garden consolidated me very much. I was very happy to celebrate Alexis's birthday. Hopefully we have a chance to cook Japanese cuisine before I leave. Yasu (Japan)
---
Quelle joie innonde mon coeur pour avoir fait connaissance d'une femme gentille et accueillante qui s'appelle Martine. Grâce à elle mon séjour fût agréable. J'espère revenir dans ce beau cadre. Pour tout, je te dis, merci. Philippe (Lubumbashi, RDC)
---
Bien chère Martine, Une maison qui accueille avec joie est une maison bénite. Martine, tu es une femme exceptionnelle. Garde toujours ton sourire, ta gentillessse et ton souci de mettre l'autre à l'aise. Revenir une prochaine fois au 76 avenue de la Marmotte serait pour moi un réel plaisir. "Mungu akubariki" que Dieu te bénisse et te garde. Grand merci pour tout. Merci aussi à ton fils Nicolas qui est sympa. Je t'embrasse. Fraternellement. Nicole (Lubumbashi, RDC)
---
---
Contact
Please use this form to send me your messages or feedback
Marmotlaan 76 avenue de la Marmotte
B-1970 Wezembeek-Oppem
Belgium
Mobile : + (32) 475 29 25 19
Tel : +(32) 2 731 18 45
---
I introduce myself ...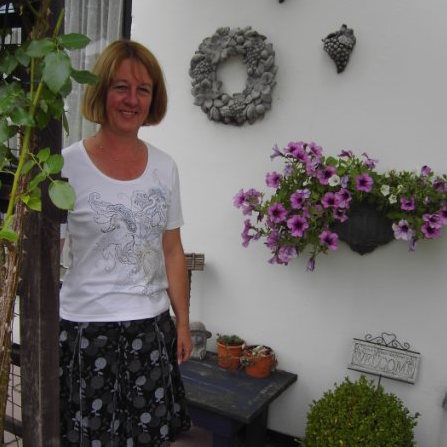 I'm a proud mom of 3 sons, executive secretary in a Brussels College and ex-teacher of Dutch, French and English
My favorite hobbies are: gardening, travelling, informatics, reading, flower arrangements, do-it-yourself
Download the article