---
Over
Accommodatie voor stagiaires, zakenlui, toeristen, studenten, ... gelegen in gezinswoning - Rustige en groene omgeving - Eigen parkeerplaats - Mooie tuin – Gratis draadloos Internet - Aparte badkamer met stortbad en toilet voor de gasten - Restaurants en winkels te voet te bereiken.
Bus 76 / Tram 39 (Mivb) + Metrolijn 1: richting Stockel (halte Kraainem). De Lijn 830 (Luchthaven van Zaventem) & 410 (Tervuren/Leuven).
Studio
Kamer met twee éénpersoonsbedden
Bureau
Aparte uitgeruste kitchenette (koelkast, micro-golf en grill, koffiemachine, toaster, ...) met eethoek
---
De omgeving
Wezembeek-Oppem is één van de gemeenten van de Oostrand van Brussel, de hoofdstad van België, het hartje van Europa. Wezembeek-Oppem bevindt zich op 10 km van Brussel, 20 km van Leuven, 6 km van de luchthaven van Brussel Nationaal (Zaventem) en dichtbij de autostrades E40 en E411.
---
Te bezichtigen in de omgeving :
het Koninklijk Museum voor Midden-Afrika
www.africamuseum.be
het Trammuseum Brussel
www.trammuseumbrussels.be
het Zoniënwoud, één van de mooiste wouden van België
www.zonienwoud.be
het Arboretum van Tervuren
www.arboretum-tervuren.be
Wezembeek-Oppem is een meertalige en multiculturele gemeente..
---
U vindt er :
de Duitse school (Lange Eikstraat - 71 - rue du Long Chêne) www.dsbruessel.be.
en in de aangrenzende gemeenten :
---
l'UCL, université catholique de Louvain (te Sint-Lambrechts-Woluwe) www.ucl.ac.be/bruxelles.
the American School, de Amerikaanse school (te Sterrebeek) www.brus-ehs.eu.odedodea.edu.
the British School, de Engelse school (te Tervuren)www.britishschool.be .
the European School, de Europese school (te Sint-Lambrechts-Woluwe) www.eeb2.be/ .
International Montessori Schools Brussels (te Wezembeek-Oppem, Sterrebeek en Tervuren) www.montessori-france.asso.fr .
de Japanse school (te Oudergem) www.japanese-school-brussels.be .
---
GuestbookLaatste berichten
Thank you very much for all your help and assistance. I really enjoyed it here in Wezembeek-Oppem and Tervuren. Also your beautiful garden consolidated me very much. I was very happy to celebrate Alexis's birthday. Hopefully we have a chance to cook Japanese cuisine before I leave. Yasu (Japan)
---
Quelle joie innonde mon coeur pour avoir fait connaissance d'une femme gentille et accueillante qui s'appelle Martine. Grâce à elle mon séjour fût agréable. J'espère revenir dans ce beau cadre. Pour tout, je te dis, merci. Philippe (Lubumbashi, RDC)
---
Bien chère Martine, Une maison qui accueille avec joie est une maison bénite. Martine, tu es une femme exceptionnelle. Garde toujours ton sourire, ta gentillessse et ton souci de mettre l'autre à l'aise. Revenir une prochaine fois au 76 avenue de la Marmotte serait pour moi un réel plaisir. "Mungu akubariki" que Dieu te bénisse et te garde. Grand merci pour tout. Merci aussi à ton fils Nicolas qui est sympa. Je t'embrasse. Fraternellement. Nicole (Lubumbashi, RDC)
---
---
Contact
Gebruik dit formulier om me uw berichten of een antwoord te versturen
Marmotlaan 76 avenue de la Marmotte
B-1970 Wezembeek-Oppem
Belgium
Mobile : + (32) 475 29 25 19
Tel : +(32) 2 731 18 45
---
Ik stel me voor...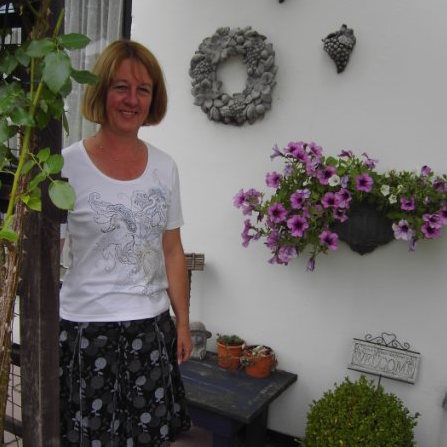 Trotse mama van 3 grote zonen, directiesecretaresse in een brusselse Hogeschool, ex-lerares Nederlands, Engels en Frans
Hobbies: tuinieren, reizen, informatica, lezen, bloemschikken, knutselen
Download een artikel